White Hat SEO Service is the genuine way to rank any website in the Search Engine Result Pages (SERP), and this definitely grows businesses and helps entrepreneurs to get quality traffic for a longer period. Who doesn't want to rank their websites on search engines like google? Everyone has this dream to rank because it will help them to get organic traffic and reduce their PPC Ads campaign costs which will result in increasing their total ROI.
We call white hat SEO service the genuine way to rank on SERP. Webmasters (SEO experts) do that in various ways, because SEO is an art. The top most popular search engines provide instructions and guidelines for SEO experts to follow which actually help a search engine find quality results for users. Who follow those guidelines are known as the white hat SEO experts. Every search engine likes these white hat SEO practices and rewards them with quality traffic  who maintain their given regulations and optimize their site accordingly.
Why RankandTrend Provides Only White Hat SEO Service:
You got the answer, right? We want to provide our clients with quality organic traffic every time. That's why we use white hat SEO tactics to rank websites. We always do proper On-page optimization, maintain white hat link-building procedures, and solve technical SEO issues. So you will not have to worry about Google's updates or penalties. A proper SEO-optimized site will not get penalties and can survive in any situation, no matter what update is coming from search engines in the newer future.
Here are some of the other reasons why we provide only white hat SEO services.
To Assure & Maintain Long Term Ranking:
There is no alternative to white hat SEO strategies to rank in Google for the long term. You can follow the gray hat or black hat SEO strategy for your website to rank on Google or any other search engines, but any update that will come in the near future will actually damage your site, completely. That's why we always follow Google's webmaster's guidelines. As a result, your website will rank forever, and you will continue to get quality traffic which will eventually become your long-term customers/clients. Your paid advertising costs will be reduced, and this cost will go into your profit.
To Maintain Customer Satisfaction:
What do we actually do? We offer search engine optimization services, right? Now suppose someone comes to us, and we rank their site without following Google's guidelines (using black hat or gray hat tactics); what would the results be? The site will rank well but won't survive for long. As a result, you will be happy to rank at first but will suffer later. Will you come to us then? No, never. This is normal. Isn't it? We are dedicated to providing long-term service, and client satisfaction is our main target, and this will ensure that you get top-notch services from us, which at the end of the day, benefits you and our business.
Provide Value First Strategy:
We give 100% effort in work. We work in such a way that our clients get good results in the long run; we love to receive praise from our clients, which basically motivates us to work. That is why we strive to deliver substantial value through work that continues to enhance our business reputation.
To Maintain Long Term Partnership with Our Clients:
Say it yourself, why should you take our white hat SEO services if we can't give you the right value? White Hat SEO is a strategy through which the user gets the exact information they are looking for in a search engine like Google. The search engine also finds it easier to find their required information, and between these two parties lies a white hat SEO expert. As a result, those SEOs who follow this technique benefit search engines and users. As a reward, the website implementing this strategy receives thousands of visitors from a search engine over a long time, which helps them grow their business. And that's why we don't offer services other than white hat SEO, so our clients who have taken the services from us again think of us first for their SEO work. This assists us in building a long-term partnership with them.
Safe Play:
SEO is an exciting ranking game. What do you think? Isn't it? Obviously, and in this ranking game, the white hat SEO strategy is a sure win (NO CONFUSION), and we want you to win this game forever, which will make your business more known and popular.
What We Have Done Before – Case Studies
A few months ago, in November 2022, a client came to us to optimize his website, which provides weight loss coaching and consultation services to people who reside in the USA. The main objective was only one, to take their website rank higher in the Google SERP as soon as possible. We took the challenge, and when we took over the site, their position on Google SERP (Search Engine Results Pages) according to their targeted keywords was as follows:
Before Implementing White Hat SEO Strategy:
| | |
| --- | --- |
| Keywords | Position in the Google SERP |
| Online weight loss coaching | 6 |
| Weight loss coaching | 8 |
| Weight loss coach online | 9 |
| Weight loss coaches | 10 |
| Weigh loss coach | 11 |
| Online weight loss coach | 12 |
| Pesonal weight loss coach | 12 |
| Weight loss coach | 13 |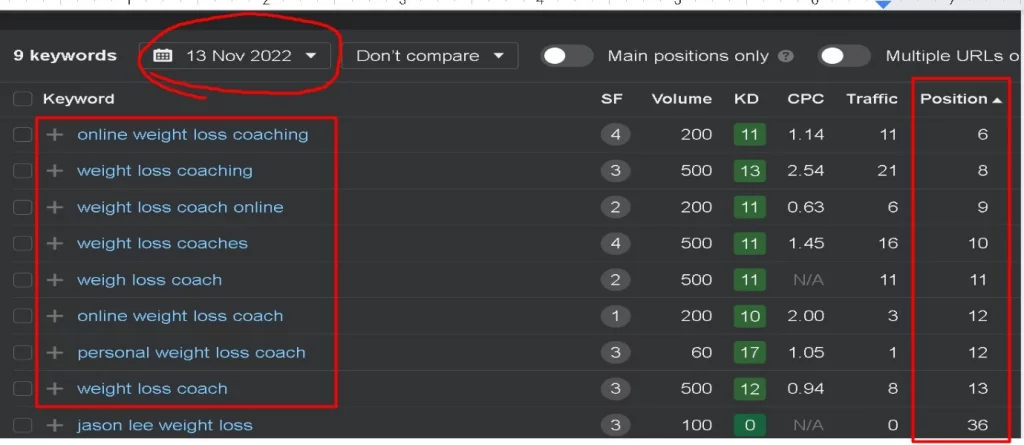 After Implementing White Hat SEO Strategy:
| | |
| --- | --- |
| Keywords | Position in the Google SERP |
| Weight loss coach | 5 |
| Weight loss coaches | 5 |
| Weight loss coach | 5 |
| Weight loss coaching | 5 |
| Online weight loss coaching | 6 |
| Online weight loss coach | 6 |
| Weight loss coach online | 8 |
| Personal weight loss coach | 5 |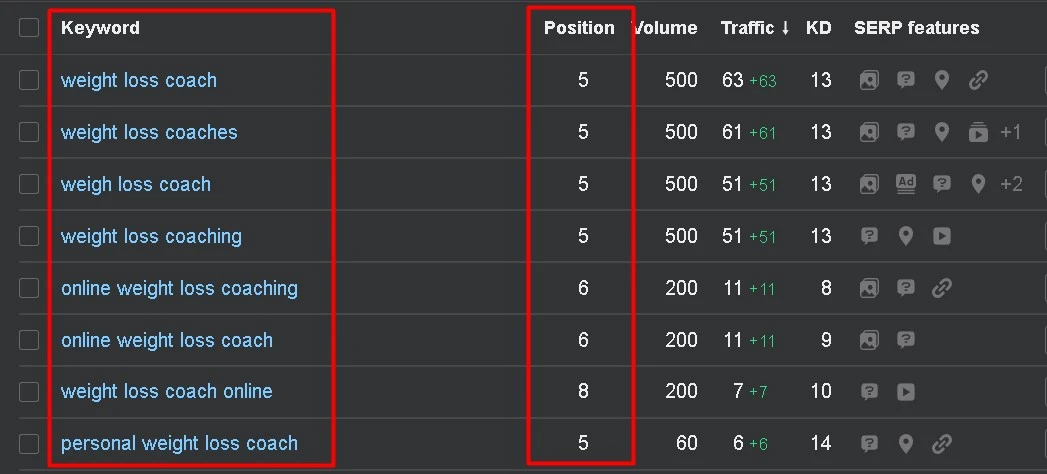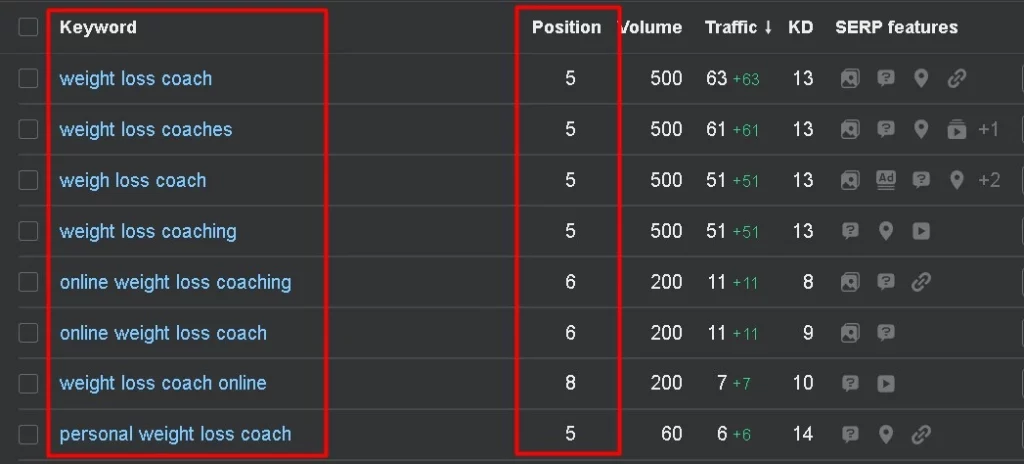 We Recovered a Site with Our White Hat SEO Services:
In September 2022, Google brought an update, and many websites were affected. A website penalized in that update is restored to Google rankings by our professional SEO experts. Below is a picture of it.
We Recovered a Site with Our White Hat SEO Services:
In September 2022, Google brought an update, and many websites were affected. A website penalized in that update is restored to Google rankings by our professional SEO experts. Below is a picture of it.
Our White Hat SEO Service Process:
Now let's discuss our white hat SEO service process in this part. Then everything will become clear to you.
Keyword Research:
When you or your business choose us to implement SEO strategies for your website, and a monthly agency contract is set with your organization, we will start doing keyword research for your website. Let's have some clarification on the keyword research process. What is it exactly?
Keywords are nothing but all the words that people write and search on Google every month to find their desired information, products, or services. With our keyword research process, we will try to find profitable keywords for you that have low competition but high demand, and we will create a list of 100 – 300 keywords through this keyword research process.
It is worth mentioning here that the number of keywords actually depends on your website, chosen industry, and competition. So the number of keywords can be like 300 or 500, and it can be reduced to 20 or 80. But we will select all the right keywords for you and arrange them in an Excel file. Then you check keywords and tell us which keywords you don't want to rank for in Google. As a result, we will start our work with all the keywords that you want to rank for.
Keywords, Traffic & Data Tracking:
Once you have selected your final profitable keywords from the Excel file we sent to you, we will begin our work on each keyword. We'll find out where your site currently ranks on Google SERP for each keyword with our tracking tool. We will also create a dedicated subdomain for you, where you can log in at any time and view and examine all your ranking updates on Google, including the movement of keywords selected for your website. We update this data every 24 hours, so you can easily access this updated data anytime, even on weekends.
If you start working with us, you will not need any third-party tools like Google Analytics, SERP Rank Tracking Tool, Google Search Console, Google AdWords, Semrush, or Ahrefs, because we are responsible for managing them. You will only see the performance from the updated file.
Conducting an In Depth Site Audit:
We do more than keyword research when working on your site. We will also audit your website with our best SEO tools. First, we will conduct tool audits and, later, manual human audits. As a result, our team will be able to discover all the problems existing on your website. For example, from Meta Titles, Headlines (H1-H6), and Meta Descriptions to SSL Certificate, Schema, 404 Errors, and so on, we will find out and report back to you, and our SEO team will start solving all the problems. Once all the issues are resolved, we will start moving towards core SEO, and over time (four months or less), you will start to notice your site's amazing performance.
On-Page SEO:
On-page SEO is about optimizing the pages within your website for search engines properly, following webmaster guidelines. This is very important. On-page optimization of a website is very important not only for Google but also for all other world-famous search engines like Bing, Yahoo, Yandex, and Baidu.
The reason On-Page SEO is important is that search engines first send their spiders or robots to crawl and index the pages of any website. While performing this activity, search engines analyze the pages of a site and then index them in their database and provide a rank.
We will optimize each page of your website according to the selected keywords so that you can quickly see your website rank in Google or any other search engine. Rank doesn't just mean first on the first page. It refers to the first to tenth page of the search engine. But since we will try to get your website on the first page (1st-10th position), we also need to do off-page SEO work. Let's go to that part!
Off-Page SEO:
Apart from on-page SEO, the page ranking of a website also depends on some other external factors. Off-page SEO activities are mostly related to white hat link building. However, it involves many other things, such as implementing EAT (Expertise, Authoritativeness, and Trustworthiness), creating social profile personas, disavowing spammy backlinks, building new relationships with people working in the same industry and doing hundreds of other things like acquiring relevant and logical backlinks from there.
Off-page SEO activities are just as important as on-page optimization in getting any page to number one. And in this case, it is very important to create backlinks because backlinks are like votes. The more backlinks you get from the same niche or industry, the more people are voting for your website. That means others will refer you to their site and give you a link, which serves as an indicator of your credibility and expertise in the industry and is a very important ranking factor for Google. And this off-page SEO strategy we will do for you, and our off-page SEO activities will continue as well.
Technical SEO:
Maintaining a website's infrastructure, creating a robots.txt file, providing instructions to allow or prevent search engine robots from crawling your website, sitemap creation, and submission, SSL certificate installation, finding and resolving technical errors, fixing canonical issues, and all such related matters are the activities of Technical SEO. Our technical SEO experts will observe, analyze and solve any problem when they arise.
Our dedicated technical SEO team will take care of all this and resolve any issues quickly to keep your site search engine friendly forever. The more search engine friendly your website is the better your website's ranking capabilities.
Local SEO Service:
If you operate a local business, then our local SEO services are for you because people search for local services on various search engines like Bing, Google, Yahoo, and Yandex, and we optimize such local business-related websites based on the local searches people make. And so, local SEO is essential for local businesses.
The local SEO services we provide will assist you in ranking your business website on Google through local keyword research, listing your business website on Google My Business listings, doing map citations, and making citations on other classified sites.
Our white hat SEO strategy varies by website and competition, so if you have a website and want it to rank on Google and other search engines, it is the best decision to contact us. You will receive a free consultation from us by filling out the form below and sending it to us, and then you can also receive our monthly subscription if you wish.
Frequently Asked Questions:
What is SEO?
SEO is a digital marketing strategy through which an organization arranges to get organic or free traffic by ranking their website on the first page of various search engines of the world. SEO helps any website to move its position higher on the search engine result page.
What does SEO stand for?
SEO is the abbreviation of Search Engine Optimization. This is the art of increasing the search traffic of a website by improving the position or ranking of that website on the search engine result page (SERP).
How does SEO work?
SEO is a process, and through this process, the content of a website is optimized for users and search engines. As a result, when someone goes to the search engine and searches for a topic, the search engine puts the best-optimized page at the top of the search result page, and the one who does this optimization is called the search engine optimizer.
What are the types of SEO?
According to the work process of SEO, SEO is mainly divided into three parts. They are On-Page SEO, Off-Page SEO, and Technical SEO. Again there are ethical and unethical ways to get search ranking. According to this way, SEO is again divided into three parts, which are indicated by different hats, and these hats are known as white hat SEO, black hat SEO, and gray hat SEO.
Which SEO is unethical?
Black Hat SEO is basically considered an unethical SEO strategy.
How does white hat SEO differ from black hat SEO?
White hat SEO is the conduct of search engine optimization activities according to the guidelines set by the search engine, and black hat SEO is the opposite. That is, black hat SEO refers to all activities that go beyond the guidelines set by search engines and manipulate search rankings.
What is an SEO agency?
A digital marketing agency that provides SEO services to increase the organic traffic of a website is basically called an SEO agency.
How much does it cost for SEO services?
If you do a little research on Upwork, you will find that individual SEOs charge anywhere from $25 an hour to $250 an hour. Again on a project basis, this cost can be 3000 to 10000-12000 per month. Actually, the cost depends on the quantity and quality of the work. But an average SEO agency guru charges at least 3000 per month.
How long does it typically take for a white hat SEO service to see results?
White hat SEO takes at least 90 days or three months to get desired results. In some cases, it may take up to 6 months.
Can you guarantee top search engine rankings with a white hat SEO service?
Yes, of course. We guarantee to get your site between 1st to 10th position on Google's search results page, and our SEO experts at RankandTrend are committed to doing this.